DAMAC Towers by Paramount Hotels & Resorts Wins "Tower Project of the Year" Award at Construction Week Awards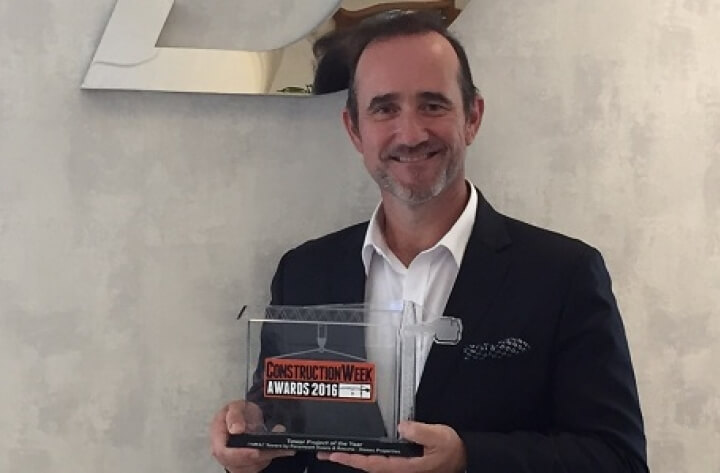 Damac Paramount Towers, one of the largest projects under construction in Dubai, yesterday won the "Tower Project of the Year" award at Construction Week Awards. The project was named the winner in its category and selected based on construction best practice and an exemplary safety record.
Construction Week Awards, one of the most coveted in the industry, celebrates the achievements of the region's construction contractors and projects. The awards seek to recognise and reward individual excellence, expertise and project success. Construction Week magazine is an ITP publication that has grown from strength to strength since its launch in 2003.
Developed by DAMAC Properties in collaboration with Paramount Hotels & Resorts, the AED 4.77 billion (USD 1.3 billion) project offers an ambience and reflection of the Hollywood glamour and California lifestyle, synonymous with the Paramount Pictures Studio over the past 104 years.
Niall McLoughlin, Senior Vice President, DAMAC Properties commented: "We are delighted to have won this highly-regarded award for one of our most distinctive and much-anticipated projects in the pipeline. This award is testament to the pioneering role that DAMAC continues to play in luxury real estate whilst also demonstrating our commitment to construction best practice and usage of the latest techniques and technologies that translate into enhanced project delivery. Considering the complexity of this project, it is an honour to receive this recognition by a panel of judges comprised of industry experts."
A number of unique construction techniques have been implemented in this project including closing out the façade while the external hoists and cranes are in operation. Additionally precast hollow core slabs were used in strategic areas, to speed up construction of main slabs, as well as to allow flexibility in the movement of material and equipment. Sub-craning and in-tower storage of material was also used to enhance logistics.
Safety procedures were implemented throughout the construction phase of the project, to ensure the utmost protection and welfare of all involved in the project.  The project also employs "Building Information Technology" to enhance project delivery and coordination, significantly simplifying multi-disciplinary coordination and exchange of information and clash detection whilst also optimizing the design in real time.
DAMAC Towers by Paramount Hotels & Resorts will provide enviable views of the Burj area and provide easy access to one of the world's largest shopping malls, The Dubai Mall. The project will raise the bar for the use of innovative technology and architectural style both within the hotel and the residences. The four-tower development comprises 1,200 luxury residences in three towers, while the fourth tower, the Paramount Hotel, will house more than 800 rooms and suites.  Each of the four towers stretches over 250 metres in height, joined by a multi-level plaza.