DAMAC supports the International Real Estate Federation's 69th Conference to be held for the first time in the Middle East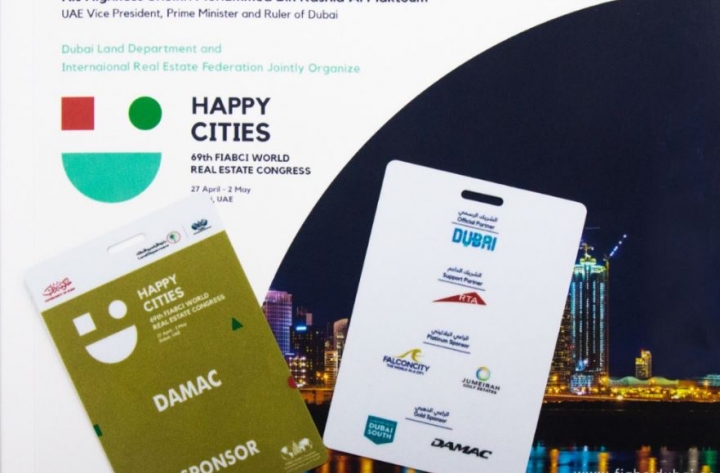 DAMAC Properties announced its support to the Federation Internationale des Administrateurs de Bien-Conselis Immobiliers (FIABCI) which is hosting its FIABCI 69th World Congress 2018 in Dubai from 30 April – 2 May 2018, at the Dubai World Trade Centre.  The three-day conference and exhibition is being held for the first time in the Middle East, and is a testament to Dubai's exemplary efforts in reinforcing Dubai's position and reputation as a top global destination for hosting business events. 
Under the theme of 'Happy Cities', the 69th World Congress is designed to be informative and inclusive, and will deconstruct the concept of Happy Cities through dialogue, panel discussions, workshops, and an interactive exhibition space.
"The 69th FIABCI World Congress 2018 is a double win for Dubai and the region, in that it once again brings international focus to Dubai's proposition as a global destination for world-class events and conferences, and also brings the world's top real estate professionals to one of the fastest growing property markets in the world," said Niall McLoughlin, Senior Vice President at DAMAC Properties.  "We are delighted to be a sponsor of such an important global gathering, and to support our local partners who helped bring this event to Dubai, including Dubai Department of Tourism and Commerce Marketing, Dubai Land Department and its educational arm, Dubai Real Estate Institute as well as Emirates Airline and other partners."
Sultan Butti bin Mejren, Director General of Dubai Land Department, commented: "Hosting the FIABCI World Congress in the Middle East for the first time is an honour for Dubai, the UAE and the wider region, reinforcing our strong capabilities in hosting international events and promoting our real estate sector on a global level. Through the event, we will position Dubai as a leader in establishing 'Happy Cities' by highlighting our attractive real estate investment environment and demonstrating how safe, innovative and smart our city is. We are grateful that leading developers like DAMAC have stepped up to sponsor the event, as this will contribute to making it an outstanding success that represents yet another milestone in Dubai's proven track record of organising exceptional events."
The three-day FIABCI Dubai 2018 is organised by the International Real Estate Federation – a 1.5 million-member strong association recognised as the oldest and largest in the world that serves as the only real estate advisory body to the United Nations.  The Congress highlights the important role that the real estate sector plays in the region's economic growth, which is characterised by continuous development, innovation and the appropriate regulatory procedures. 
The Congress' fundamental aim is to engage the international real estate sector and provide a platform for visitors to communicate, forge new relationships, learn and grow their businesses.