The Best Places to Buy Off-plan Properties in Dubai - 2021 Guide
There are approximately 8.4 million expats living in the United Arab Emirates. If you are one of these people, we have good news for you! All foreigners can buy properties from any of Dubai's freehold districts. One of the most popular types of properties to buy in Dubai for expats is off-plan properties.
What is an Off-Plan Property in Dubai?
An off-the-plan property in Dubai is an undeveloped property typically directly purchased from a developer, and in some cases, the property's previous owner. In case you are buying directly from a developer, you will need to pay at least a 10% to 20% down payment and sign a Sales Purchase Agreement.
For some people, the idea of buying an unconstructed piece of property can be daunting. However, we offer you all the information you need to make an intelligent investment in DAMAC's off-plan projects that can yield better returns than completed units.
Top 10 Communities with Off-Plan Properties in Dubai
If you are looking to make an off-plan property investment in Dubai, look no further than the projects at DAMAC. Known for constructing some of the most luxurious, sustainable, and iconic properties in Dubai, we have an impressive range of off-plan properties that span from Dubailand to Business Bay to Arjan, to Jumeirah Village Triangle, and beyond.
Here is a lowdown of some of the most sought-after off-plan projects in Dubai:
Dubailand
Dubailand is an urban entertainment and residential complex built in the heart of Dubai. The district is divided into six worlds for themed leisure and vacation, sports and outdoor activities, attractions and experienced, eco-tourism, retail and entertainment, and downtown, all of which is very attractive for people looking to make investments in off-plan projects in the emirate, as well as for the tourism market.
The district is home to some of the biggest attractions in the world, including Fantasia, Legends of Dubailand, Global Village, World Trade Park, Desert Kingdom, Dubai Snowdome, , and more. The community is a lively, adventurous, and fun-filled place to own an off-plan property.
DAMAC Hills
One of the most coveted communities in the city is DAMAC Hills, home to the internationally recognised Trump International Golf Club Dubai. The district is beautiful and sustainable, with world-class architecture, plenty of green spaces in between buildings, and a lively vibe. DAMAC Hills is situated away from the bustle of the city, and the low road traffic means residents can enjoy a peaceful atmosphere without the noise associated with downtown areas. For residents who want fun and excitement, DAMAC Hills offer a range of leisure and outdoor activities, upscale retail stores, local and international cuisine and entertainment for the whole family.
Request a Callback to Learn about DAMAC Hills
The community also offers villas, townhouses, and apartments in a range of configurations.
DAMAC Hills 2
DAMAC Hills 2, previously known as Akoya Oxygen, is a premium villa community designed with eco-friendliness in mind. The project has 20 sub-communities that offer expats a golf-course living vibe at a competitive price and offers lush green gardens, crystalline blue lakes, and sprawling golf courses for a "truly green" living.
DAMAC Hills 2 properties have approximately 1,200 apartments and 10,000 villas and offer 2D and 3D layouts of its buildings' floor plans. The neighbourhood offers amenities like parks, gyms, a supermarket, and eateries and is connected to four major highways, providing the residents with easy access to the downtown Dubai area.
Request a Callback to Learn about DAMAC Hills 2
Amora
The towers of Amora are located in the Golf Verde of DAMAC Hills 2. Like all the properties located in the community, the property is surrounded by sprawling green landscapes, refreshing fountains, and water attractions, and sports amenities — a perfect destination for people who live a healthy lifestyle.
Amora is an excellent place to buy off-plan projects in Dubai for singles, couples, or small families since it offers 1-bedroom or 2-bedroom apartments. The best part is that it is close to the farmer's market, the equestrian town, a waterside café, petting farm, butterfly garden, Zen Garden, and a whole lot more, which guarantees a lot of fun and excitement.
Premier Villas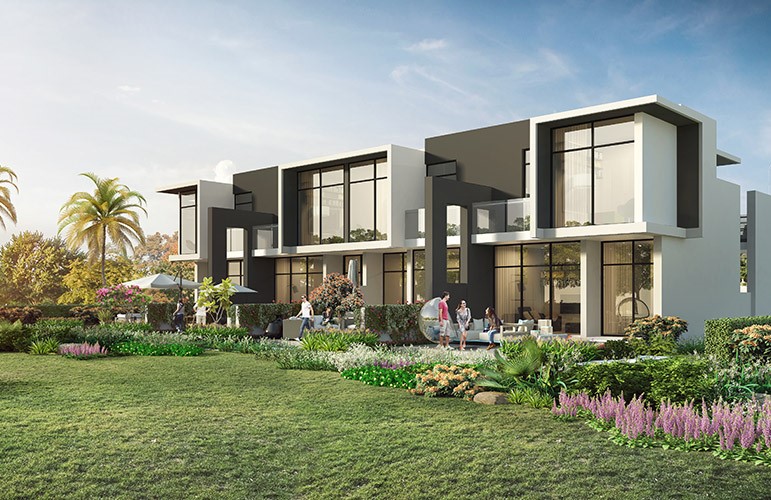 Right in the middle of DAMAC Hills 2 is Premier Villas — a stunning master community inspired by green living, home to a range of thrilling attractions, including the Water Town that offers Malibu beach waves, a water playground, splash pads, and wave surfing; Sports Town that offers a cricket pitch, football field, and tennis, basketball and badminton courts for every fitness lover; Equestrian Town, where the residents can find the joys of horse riding as well as enjoy fresh produce from the farmer's market; and the Down Town, which offers the sublime Zen Garden, waterside café, amphitheatre, and a barbecue area.
Beautifully designed with high-quality fittings and sleek lines, Premier Villas is the place to honour nature and live a life of luxury your own way.
Just Cavalli Villas
If you wish to have an exotic, colourful residence with an eclectic vibe, surrounded by nature, Just Cavalli Villas at DAMAC Hills 2 fits the bill. The community offers a collection of vibrant and extraordinary real estate with a personality that is hard to resist.
The architecture offers sharp, clean lines to the building; however, the community uses bold graphics, bright colours, rich textures, innovative materials, and unforgettable materials to make its mark and offer a tribute to nature. Each house has rooftop terraces that are specifically designed to be outdoor spaces for free spirits. Since it is DAMAC Hills 2, the neighbourhood offers a host of sports amenities, health and fitness facilities, leisure experiences, and water attractions.
Kiara
The tall and stately apartments of Kiara in z overlook the sprawling greens of the Trump International Golf Course Dubai. The real estate property offers high-end exquisitely furnished apartments for sale in Dubai. You can take your pick from studios, 1-bedroom, 2-bedroom, and 3-bedroom apartments that make the most of the living space and offer a panoramic view of the golf course.
Since the apartments are fully fitted and furnished, all you need to do is to come home and enjoy its high-end lifestyle and access its diverse amenities, including cafes, shops, restaurants, and parks.
Bellavista
If you are looking to buy off-plan properties in majestic high-rise residential towers that offer a spectacular view of the sprawling green district of DAMAC Hills, Bellavista ticks all the boxes.
The trio of residential towers offers beautiful architecture studios, 1-bedroom and 2-bedroom apartments with a lot of green spaces for environmentally-conscious people. The condominiums give a bird's eye view of the Trump International Golf Club from the top and offer a range of premium facilities like gyms, a swimming pool, a sauna, and a fitness centre at street level. The apartment complex also offers all essential life necessities like retail stores, cafes, schools, parkland, and lots of outdoor fun.
Radisson Dubai DAMAC Hills
Radisson Dubai is a premium-class golf course hotel investment in partnership with the globally renowned Radisson brand. The high-class hotel sells 1-bedroom or 2-bedroom rooms for sale in Dubai and offers magnificent golf course views, a wide range of best-in-class amenities, and the special brand of Radisson hospitality for foreigners and travellers. The lobby itself is a marvel, all decked in shades of silvers with earthy brown and gold accents.
The upscale hotel offers an excellent opportunity for people who want to invest in the emirate's highly profitable hotel and hospitality industry and want real estate that yield a high return.
BelAir at the Trump Estates
The crown jewel of DAMAC Hills, BelAir at the Trump Estates, is a real estate property that knows how to make a statement. If you appreciate the finer things in life, the limited-edition villas in the community may be to your taste. The houses offer unlimited luxuries, picture-perfect golf course views, stunning interiors, and sprawling outdoor spaces that pay an ode to nature.
Every aspect of living at BelAir at the Trump Estates reflects best-in-class living and combines opulence with elegance. Residents can enjoy well-appointed amnesties like outdoor seating, private waterfalls, bubbling Jacuzzis, a barbecue area, and a luxurious ambience.
Downtown Dubai
Well-deserving of its name, "The Centre of Now," Downtown Dubai is a busy, mixed-use complex development that is the hub of tourism in Dubai. The district is fast-paced and is home to some of the most well-known tourist attractions. People who live in Downtown Dubai enjoy a vibrant and dynamic lifestyle with access to luxurious amenities. The district is currently under construction and offers a range of off-plan apartments and villas.
Downtown Dubai is strategically located adjacent to the Sheikh Zayed Road and is one of the best places for non-drivers and tourists as it offers high-end leisure spots, immense shopping malls, and upscale hotels and skyscrapers. It is also home to the tallest tower in the world, the iconic Burj Khalifa.
Paramount Tower Hotel & Residences
Paramount Tower Hotel & Residences by DAMAC is a world-class hotel and residential complex situated next to the Sheikh Zayed Road. The tower project was made in partnership with the world-famous Paramount Hotels and Resorts and offers an out-of-this-world Hollywood studio experience. Floors 15 through 25 of the tower host a collection of awe-inspiring hotel rooms, while floors 26 to 63 offer extravagant apartments and residential units that have all the creature comforts that Paramount Hotels are famous for.
The suites are large and luxurious, fitted and furnished with only the very best material, and offer a fashionable lifestyle by offering you five-star amenities, including a rooftop infinity pool with a breathtaking view of Downtown Dubai.
Business Bay
Business Bay is located just south of Downtown Dubai and is the centre of the commercial district of Dubai. The area plays a prominent role in the city as it is extremely well connected with major highways as well as other major business and commerce districts of the city-state. It offers a mix of 240 commercial and residential buildings, and the area is experiencing fast new developments in Dubai, which means it offers excellent opportunities for people looking for investments in off-plan real estate.
Business Bay offers a comfortable and convenient lifestyle for singles and young couples and is home to some of the biggest hotel chains in the world like the Taj, Marriott, Oberoi, and some of the most famous landmarks in the world, including the Burj Khalifa and the Dubai Fountains.
Reva Residences
The tall and striking towers of Reva Residences are situated right next to the Dubai Canal, allowing residents easy access to a range of benefits like covered walkways, lush parks, and various other lifestyle amenities. The apartments allow residents to take the maximum benefit from the diverse retail and dining options in the Burj area.
The highest floors on Reva Residences offer a selection of stunning apartments that give you a gorgeous view of the Burj area as well as premium interior architecture, furniture, and fitting. This is one of the best places in the emirate if you want to enjoy a classy lifestyle in a hip and happening neighbourhood.
Vera Residences
Vera Residences is a modern and upscale tower community that offers a high-class lifestyle. A lot of attention has been given to the building's architecture, and the interior is exquisitely done in a pale neutral palette. The residences offer a mix of studio, 1-bedroom, and 2-bedroom apartments, each of which has spacious and open balconies.
People living in Vera Residences have the privilege of enjoying peaceful walks through the covered walkways and a lush park set next to the Dubai Canal. Moreover, Burj Khalifa, the Dubai Mall, the Dubai Aquarium, and the Dancing Fountains are just a stone's throw away.
Zada Tower
The stunning 30-storey marvel of Zada Tower offers a collection of 1-bedroom apartments — perfect for young professional singles and couples. The elegantly constructed tower offers a range of unique amenities that offer residents a party lifestyle. Residents have their very own open-air cinema right next to the swimming pool and huge swimming deck. The interiors are lavishly done in grey and neutral colours with accents of royal blue here and there. You can also take full advantage of the beautifully-maintained garden and wellness centre, as well as have exciting opportunities for shopping and al fresco dining.
Jumeirah Village Circle
Inspired by rural villages, Jumeirah Village Circle is a tranquil mixed-purpose suburban community that offers you star-studded amenities of life. The community is located just off the Sheikh Zayed thoroughfare, which means easy connectivity with Dubai Marina, Dubai International Airport, the Mall of Emirates, and the Jumeirah Beach.
One of the most family-friendly communities in the emirate, JVC is home to 30 lush parks, as well as internationally-accredited schools, supermarkets, hospitals, gyms, and sports facilities, making it a wholesome place to live for the entire family.
Dubai South
Also known as Dubai World Central, Dubai South was designed to be a self-reliant economic zone that supports a number of activities like commerce, logistics, aviation, exhibition, humanitarian, and residential around the Al Maktoum International Airport. The district is twice the size of Hong Kong Island and is currently hosting the biggest ongoing event in the world — Expo 2020.
Dubai South is a free zone area and offers its residents an urban lifestyle. Offering the benefits of both the commercial and residential district, Dubai South is one of the most family-friendly and pet-friendly areas in the city. The district is currently undergoing construction and is home to many new developments in Dubai, so it is one of the best places for expats to invest in.
MBR City
Mohammed Bin Rashid City is one of the largest mixed-purpose freehold developments in Dubai, with an estimated cost of AED 30 billion and plenty of off-plan property options. The district offers upscale apartments, luxurious villas, and huge mansions with very modern and futuristic architecture. The area also provides five-star leisure activities, tourist attractions, a sprawling and beautifully-landscaped park, and the biggest artificial lagoon in the world, providing residents with scenic views and a host of outdoor activities.
The area is also close to Downtown Dubai, Business Bay, Al Quoz, and Design District.
Buying Off-plan Property in Dubai: Process
If you want to buy off-plan properties in Dubai, the process is a bit different than buying a completely constructed property. Let's take a look at it:
Contact a Mortgage Broker
If you do not have enough cash on hand to buy off-plan property in Dubai, you will need to get a mortgage and find out if you can borrow enough money to buy yourself a nice home. A mortgage broker will advise you on how to get a mortgage and what kind of mortgage products you should consider.
Get a Free Mortgage Consultation
Find New Developments in Dubai
Research online to find under-construction projects or new developments in Dubai that are about to start in the area that you are interested in. Explore the plans for the development projects to get some insight into what kind of properties you will be living on. If you are interested in a property, contact the developer and request a viewing.
Reserve Your UAE Property
If you find a property you like, you should request the developer to reserve it for you. A developer will typically ask you for a 5% to 10% booking fee and ask you to sign a booking form.
Click Here to Find Your Next Home
Down Payment and DLD Fees
Once the booking process is done, you will need to provide the down payment as well as pay the DLD fee, which is around 4%. However, some developers offer discounts or waivers on this fee as well.
Signing the Agreement
In the next stage, the developer will send you a Sales and Purchase Agreement to get your signature before you get a dually signed copy of the agreement with an authorised signature from the developer.
Oqood Registration
This is an extremely important step as it ensures that your purchase is registered and approved by government authorities. After finishing the registration step, you will receive the initial contract of sale issued by the DLD.
Settle Installments
Following the agreed payment plan, you will need to settle a specific percentage of your property purchase value before the UAE property can be handed to you.
Project Completion Date
When you buy off-plan properties in Dubai, as per the Sales and Purchase Agreement, developers will have to deliver the property on the project completion date mentioned in the agreement and notify the clients of the completion of the project.
Inspection and Handover
Once the payment has been settled for the handover, you will be invited to inspect the property on a certain date. Here you can assess your new apartment or villa and pinpoint anything that is not to your satisfaction so that the developer can fix it before you move in.
Top 10 Benefits of Buying Off-Plan Property in Dubai
With a fast-growing economy, state-of-the-art infrastructure, sound politics, and highly profitable yields, Dubai is a virtual heaven for expats looking to make real estate investments in Dubai, particularly off-plan property investments.
Take a look at the top 10 reasons why Dubai is the best place in the Middle East for property investments:
1. Wide Variety of Off-Plan Dubai Properties
Dubai has an immense off-plan property market, and investors can find such projects in communities like Downtown Dubai, Business Bay, JVC, and more. No matter the location, off-plan property buyers will have a huge assortment of options to choose from.
2. Option to Pick First
When buying off-plan property in Dubai, the buyer will have the option to pick their choice of property. Since you are given priority to choose, it is highly likely the off-plan property you choose is one of the best ones, rather than leftover ones.
3. Fixed Price
When you buy off-plan properties in Dubai, the price of the property is locked in place. This means that if the value of the property changes over time due to fluctuations in the market, the buyer will not be liable to pay a single coin more.
4. Lower Price and Flexible Payment Plans
One of the biggest perks about off-plan properties for sale in Dubai is that these projects can be bought at a discount when compared to completed projects. Buyers also benefit from flexible payment schemes that allow them to make 50% deferred payments.
5. Higher Capital Gains
Even though the buyer has to pay a fixed price, the value of the off-plan property will probably increase during construction. This means if you decide to sell the property during or after construction, you can benefit from a higher return on investment.
6. Higher Rental Yield
Even though property prices fell during the COVID-19 outbreak, the rental yield of most properties stayed stable during the time. So whether you are buying an off-plan or a constructed property, you will still be able to earn a profitable rental income from your investment.
7. Buyer Protection Law
The Dubai Land Department and the Real Estate Regulatory Authority have taken several measures to protect investors against fraud, cancellations, and delays. One measure is to make it a requirement for a buyer to make payments for off-plan real estate investments in Dubai for DLD-approved banks. In addition, developers can only access funds when the project has been completed up to a certain stage. There are numerous laws that protect both investors and developers.
8. Extended Time
Buying off-plan properties give investors more time to accrue money for their home. The payment plans are flexible and are set with the agreement of both the buyers and the developers.
9. Resell Your UAE Property at Premium Price
Once your off-plan project is completed, it will be completely brand new and unused. If at this point, you want to sell it off, it can get you a premium price. The best part is that you will not need to repair it and maintain it before someone buys it from you.
10. Low Down Payment
The down payment for an off-plan property is between 10% and 20%. This is a significantly lower amount than you have to pay for pre-built properties, which is typically around 25%.
Things to Consider When Buying an Off-Plan Property in Dubai
Buying an off-plan property comes with numerous benefits. However, like all investments related to real estate, there are some things you need to understand to make a sound buying decision. Some of the questions to ask when buying property off-plan are related to the aspects below:
Registration with RERA
When buying an off-plan project, make sure the property, the developer, and the land on which the property is being built, are all registered with the Real Estate Regulatory Agency. This ensures that the property purchase will be according to guidelines that will ensure the investor's best interest.
Escrow Account and Agent Information
An escrow account is an account that safeguards the buyer's money during the transaction process. It is important that you know your escrow account number and have pertinent information about your agent to ensure a smooth buying process.
UAE Property Details
As a buyer, it is important that you perform due diligence and get as much information about the property as you can, including when it will be completed and the expected date of the handover. At DAMAC, we will provide you with all this information if you decide to invest in one of our off-plan projects.
DLD and RERA Approvals
As a buyer, you also need to know how to sell off-plan property in Dubai. To sell an off-plan property, the developer should have all the appropriate permits from the DLD and RERA. Investors should make sure they have all the approvals they need to prevent any unexpected nasty surprises in the future.
Off-Plan Property Mortgage in Dubai, 2021
You can get a mortgage for off-plan properties in Dubai that have a maximum loan-to-ratio value of 50% after paying 50% for the property. The bank will also have a few conditions on which type of property they will finance when it comes to off-plan properties. Currently, however, there are many decent post-handover payment plans for off-plan projects that can reduce the burden on the buyer.
Frequently Asked Questions
How does buying an apartment or house on an off-plan property work?
The process of buying an off-plan property in Dubai is a little different from a completed home. You can get details about the process in the "Buying Off-Plan Property in Dubai: Process" section.
Off-plan properties also differ from ready-made homes in several ways. For example, you can be sure you are buying a brand new home. You can choose your own fixtures and fittings, and the property will come with a developer warranty. The best part is, however, that even though the value of the property may rise during the development process, you will only have to pay the amount that is mentioned in the agreement — no more than that.
Are there risks to buying off-plan properties in Dubai?
When it comes to off-plan projects, the biggest risk is delayed handover if development is not on schedule. To prevent this, it is important that your sales and purchase agreement mentions the completion date of the project clearly and how the developers will handle the delay if such a situation arises.
In some situations, your off-plan property may be in danger of being cancelled. However, if you do your research and buy your property from a reliable and experienced developer, the chances of this happening are very rare.
The DLD and RERA have also established several protective measures for a smooth off-plan property purchase. One law stipulates that the developer must provide a bank guarantee of 20% of the construction funds, as well as a 10% guarantee performance bond by the contractor. This increases buyers' confidence in the off-plan investment market.
In addition, the law also stipulates that developers who are selling off-plan property need to set up a separate escrow account for the project with a DLD-accredited escrow agent.
Should you buy off-plan properties in Dubai?
Off-plan property investments are very popular both among first-time property buyers and experienced investors. Buyers can enjoy discounted prices and will have the added benefit of paying only locked-in prices that will give them a higher ROI when they sell the property. There are also a huge variety of options for off-plan projects, including from DAMAC Properties, so you have the choice to pick one according to your taste. In addition, the protective measures set by real estate regulatory bodies make off-plan properties a safe investment in Dubai.
Is it possible to negotiate off-plan prices in Dubai?
One of the most interesting things about an off-plan property is that it is very flexible, and most developers are open to price negotiation if you have a better payment plan. For example, if a developer wants you to pay 30% on booking and 70% at the handover, you can request to pay 50% on booking and 50% on handover if they further reduce the price of the property. This seems to be a win-win situation, and smart developers may be open to such negotiations.
Can you apply for a mortgage for off-plan Dubai properties?
Yes, as we mentioned above, you may be eligible for a mortgage for an off-plan UAE property that has a maximum loan-to-value ratio of 50% once you have paid the remaining amount of the property. As a first-time buyer of Dubai properties, you need to keep in mind that you will need to meet a few conditions of your lending bank before you can apply for a mortgage. Fortunately, you can now benefit from an excellent post-handover payment plan for off-plan UAE properties.